Are you ready to view the external and internal as ONE?
My foundational teaching in OMG takes you on a journey through your internal and external world, what I call Phase 1 & 2 of the journey of self-actualization.
OMG Intensive is your start into Phase 3, in which you bring together the internal and external.
OMG is about the knowing. Knowing of the feeling, of the Truth.
Intensive is about understanding what you know.
To be able to completely live this, you MUST believe in what you know. Knowing on it's own is wonderful, but not enough to live it.
OMG points things out to you, Intensive supports you to understand the things that were pointed out.
DIVE DEEPER
OMG Intensive is comprised of in-depth and advanced teachings on 11 topics recorded with Amir's elite FTW private coaching group.
The program is delivered weekly, to support you for 9 months after you've completed the core OMG Program.
*You must have completed the full 12 modules of OMG original before starting OMG Intensive.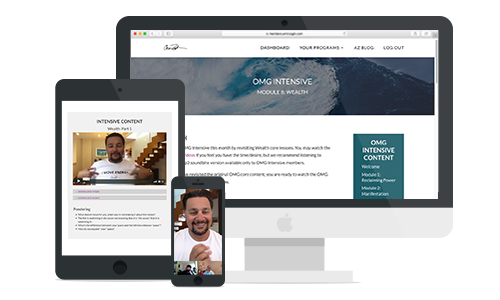 WHAT'S INCLUDED:
11 modules of pre-recorded video content delivered over 9 months. This is brand-new advanced content recorded with Amir's private coaching group.
Weekly group coaching on Zoom with AZ Facilitator Jamie Gonzalez and a small group of like-minded individuals at the same place as you in the work.
Downloadable soundbite audios of the original OMG modules. These were created for Amir personally and his private coaching clients so they could easily review the core teaching of each module in their daily life.
Deep-dive homework and pondering prompts for each module video. To help you integrate the teachings into your daily life.
Here's what some OMG Intensive participants say about their journey in this program.
"Before I started this work with Amir, nothing seemed to be working out for me in relationships, finances and my career. I repeated the same patterns and I was deeply unhappy. I felt completely trapped in myself and my problems. I wanted to run away from everything in my life as it felt like it was all too hard to bare.
Amir opened my mind to another way of seeing life. I still experience things not working out for me, but they usually don't consume me. I can come back to a place in myself that is unshakable, where I know I'm always ok. I can now experience so much joy and presence and so much appreciation for this life that I get to experience." 
— August Porter, Australia
"I had been struggling with anxiety and depression for a number of years. I knew I needed to make a big change in my relationship but couldn't act on those feelings. I was scared, confused & had very low self-worth. After this work with Amir I don't think about myself in the same negative ways I used to. I still feel sad at times but it now feels natural & healthy. I don't feel stuck in those emotions. I show up differently in my relationships and as a parent. I'm less reactive & more compassionate. I feel comfortable being myself & not needing to be who I think others want me to be."
— Nikki Foley, Australia
"

I used to be miserable in pretty much every area of my life. My life was great on paper, and what most people would consider a dream. Amazing job, finances, social life. But the reality was that I was dying inside and I just felt like my life wasn't mine. I felt cheated, I did everything that everyone told me to do (get good grades, get a new job, get married to a nice guy, buy a home, etc) and I still felt imprisoned and dead inside.



But I always believed there had to be more to life than this. Since starting this work with Amir, it has been a really crazy ride. I quit my corporate job and I've been able to live exactly the way I want, travel around, do the programs I want to do. When people look at my life and think I'm so lucky or my husband makes a ton of money… none of that was true. I just decided this is how I want to live. Every now and then I have fear thoughts arise, but rarely do those thoughts influence my decisions anymore. This work has led me to experience love on a whole different level with myself, with other people, with just life."
—Mandy Ho, United States
"Before finding Amir I had experienced an event which made me feel like my whole world crashed around me. I was struggling with relationships in general and had chronic back pain. I was blocked from my emotions like a robot and was constantly seeking happiness via distraction: buying things, traveling and going on adventures… though In reality I was often bored or miserable in my day-to-day.
Today I'm in a place that can't compare. I'm more zen, learnt how to embrace my emotions and enjoy life. My relationships are the best they've ever been and my chronic back pain has also gone. My wife also keeps saying that having the new me is priceless. Dealing with life is so much more effortless and things keep falling into place without needing to 'try'. I can't picture myself ever stopping my journey to go deeper into the truth with Amir!"

— Harold Quinones, Australia
"All the personal development work I had done in the past always felt incomplete, like there was a piece of the puzzle that was always missing.
The most significant change since starting OMG is that I now know how it feels to have absolute certainty. Not in the world around me or in regards to my situation but within myself. I see my world internally and externally in a completely different way than I ever could have imagined.
Amir continues to bring my attention back to the truth and that has been the most supportive for me to not only know but to be able to live this work, everyday."
— Colby Stacey, Australia
"You have no idea what you'd be missing if you don't do this. It's given me everything… everything I've wanted, I've now got. I used to feel like life (especially work) demanded me to be a certain way. I worked over 100 hours per week often and didn't think it could be any other way. It's helped me see clearly what I want, and how what I want is possible. I've learned what's real and what's not. I feel free from obligation in how I have to be and what I think I need to do. I have more time outside of work as I work less, and I'm more effective and get the same if not more results doing the projects I actually want to do."
— Nivin Thanabalan, Australia
HOW IT'S DELIVERED:
New video each week. Each module is comprised of 2-3 video content sessions. You'll receive a new 45-90 minute video to watch every week for 9 months + one week of review at the end of each module. .
At the start of each module you will receive an email and access to the OMG Soundbite to review the original core OMG content as well as the first video of Intensive content.
You will be given downloadable access in video and audio format of all content to listen to as many times as you like, even after the program is complete including for the original OMG content.
Are you ready to continue your journey?
PAY IN FULL
Join the 9-month Coaching program.
GET PAYMENT PLAN
Pay in 9 monthly installments.