Are you ready to start living a life of infinite possibilities? Dive deeper with Amir's teachings in the OMG, 12-month coaching program.
Each month you'll receive access to videos covering a new topic and have live coaching calls with Amir and optionally an OMG mentor to help you implement the teachings.
MONTH 1: RECLAIMING POWER
This powerful module breaks down what it really means to reclaim power. You will learn exactly how and why you put power into things and how this impacts your day to day experience. We will dissect the process of reclaiming power and how you can implement it into your daily life to experience greater freedom.
MONTH 2: MANIFESTATION
In this module you'll discover the truth about the often misunderstood topic of manifestation. This module breaks down the exact process of manifestation and how you really manifest in your life. We'll cover the truth about WHO is actually manifesting in your life, through to how you allow manifestations to take form. This is some of the most advanced training on manifestation every released – enjoy!
MONTH 3: THE EGO
What is the ego? Who is the ego? What is the ego really looking for? And, how do you know when you are in ego? This module will answer your questions about the ego. You will learn how the ego plays its roll and how it continuously gives your power to the external. It's only when you become aware of when you are in ego that you can begin reclaiming power from the external.
MONTH 4: LOVE
Whether you realise it or not, everything in this world is about LOVE. Everything you do, everything you are searching for, every agenda, it's all ultimately about looking for or to express the love that you already are. This module uncovers what True Love really is and how different that is from the concept society and most people have about love and what it means to be loving. This module goes even deeper and also shows you why love isn't actually free, and why a lot of things that seem "loving" actually are just an agenda and why the most loving thing you can do is sometimes the complete opposite of how "human love" would act.
MONTH 5: REFLECTIONS
What are reflections and why do they exist? This is the module that gives you the complete understanding of Reflections and why they are so important in helping you go deeper into Truth. You will uncover the 3 types of reflections, indirect, true and complete, the purpose they each serve and what they are actually reflecting back to you. You will also see the power in making decisions from what's True (from what's reflecting) rather than what's being reflected and why it's not necessary for everyone to "awaken".
MONTH 6: THOUGHTS
What are thoughts? Where do your thoughts come from? And who is the one actually "thinking"?
This thought-provoking module dissects all of this and more as it uncovers why we have thoughts and the purpose they serve.
It also poses a powerful question:
Are you even in control of what you think?
MONTH 7: THE JOURNEY
This module begins to cover the journey leading you back to living your Truth in your external reality, but this time it's a new you showing up. This module is all about bringing your internal and external worlds together as one and grasping the difference between putting "the power" into form versus "being the power" and using it "through" form.
MONTH 8: WEALTH
This module covers the idea of wealth and how we truly attain a wealthy life. It also uncovers the Truth about why people are not being wealthy. You will learn how it's not money that we lack, rather it is Space. This module also covers all the common things people use to consume their space and how to make more space in your life again. The greater your space, the greater your ability to be wealthy.
MONTH 10: MEANING & PURPOSE
In many modules, it has been shared how "purpose is in who we are and not what we do" and 'it's when you've realised the purpose that's in who you are, you then give purpose to what you do and not get purpose from what you do". This module will leave your ego doing backflips and free your soul to soar a life that is not bound by meaning nor purpose, a life that has transcended the limitations that we give to form.
MONTH 10: WILLINGNESS
In this profound module, you will  capture the essence of true manifestations and why some of our manifestations are forceful where others need no force whatsoever. What's the difference between having "willingness" and to have "will"? What's the difference between motivation and inspiration? Grasp the roots of where these words are coming from and you can grasp "Free Will".
MONTH 11: TIME, SPACE & THE NOW
So much has been said about Space, now see how Time falls into the picture. What does it really mean to transcend time and space? And why is being in the "present moment" still being limited by time and the story? In this module you'll reach and touch what it really means to be INFINITE.
MONTH 12: TRUTH & THE JOURNEY TO IT
In this module we discover what it ultimately takes to be ONE with the Truth and how the previous modules fall perfectly into place upon the journey to Truth. Uncover the transition points from phase 1, phase 2 and phase 3 of consciousness. And finally, why some are ready for it, and others are not and what determines someones experience of the Truth.
AN EXPANDED MIND SEES EXPANDED POSSIBILITIES
"While re-watching WTF was very beneficial, I wanted to know this wisdom in such detail that I would become the wisdom and I found this through coaching with Amir. I am then able to go out into the world and slot it in to how I am already living. This previous fragmented jigsaw of life is gradually taking the form of an artwork more beautiful than I could have imagined. The greatest part of this is that it isn't the world that is changing at all – it is me. And in this realisation I am finding the endless well of power and creation that I AM. For me, it's about having the will to invest in yourself to live the way you dreamt you could – free and with love."
MATT AUGUSTYN
"What I love about the coaching program is that each module feels like a calming mediation. I tend to overthink just about anything and listening to these webinars allow me  to turn down the chatter, remember my Truth and to let go of having to control everything. It has helped me to focus on what I love instead of trying to force things to work in a certain way. When I allow myself to live in the flow, everything happens with more ease and in extraordinary ways that I couldn't have planned if I tried. And i'm only on module 4 so I can't imagine what more will come by the time I reach the end!"
YARI ARENAS
"You have no idea what you'd be missing if you don't do this. It's given me everything… everything I've wanted, I've now got. I used to feel like life (especially work) demanded me to be a certain way. I worked over 100 hours per week often and didn't think it could be any other way. WTF and OMG helped me see clearly what I want, and how want I want is possible–even in the workplace as an employee of a huge bank! I've learned what's real and what's not. I feel free from obligation in how I have to be and what I think I need to do. I have more time outside of work as I work less, and I'm more effective and get the same if not more results doing the projects I actually want to do."
NIVIN THANABALAN
"Living this in every moment is a lifestyle change. This coaching offers consistent support to stay on track. It's like fitness. Just because you see results, you don't stop, you keep going as there is no destination. It becomes a lifestyle. I can't wait for every week and month when I get my new support audio or video and I clear my schedule to watch it as I get insight after insight into my own life. And it translates to decision making. When I make decisions now for things that I would have thought weren't easy or attainable, I watch as things happen in my life to revolve around what I desire, instant manifestation, all by putting my attention on the truth. "
KERRI TSIGOLIS
Who is the OMG Program for?
I'd rather tell you who this program is not for because to be honest the individual this is for will already know it is for them. They will feel like it's what they had been looking for all along. So, the individual this is not for is the person who is not ready for change and not up for being personally challenged. It's not for the person who's looking for a quick fix or a magic pill. It's not for the individual who feels that information and this style of coaching that will help people should be free. It's not for the person who is still looking for the "value" in spending money or time in experiencing who they Truly are.  It's not for the person who is not willing to be truly honest with themselves.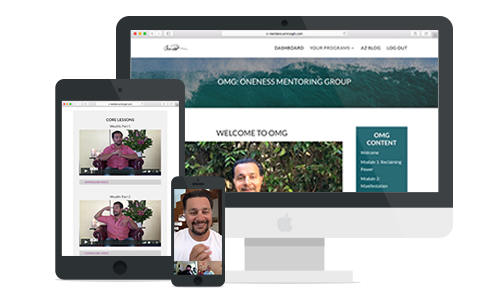 Program Details & Structure
— OMG Standard —
Monthly Content
At the start of each month you'll receive 2-3 core content videos from Amir. These are 60-90 minute videos and cover the core teaching on the topic of the month.
Daily Emails
Every morning you will receive an email that includes something different to support you and is based around delivering bite-sized pieces of Amir's coaching on the topic of the month. This could include; audio content, videos, guided processes, and exercises. Each day supports you to stay plugged in, to ensure you succeed at integrating all that Amir shares as this enables you to truly live it in your life.
Monthly Live Coaching with Amir
Each month you'll have the option to attend a live coaching Q&A call with Amir. This takes place online via our video platform Zoom. This is your chance to share your experience and ask questions directly to Amir. If you can't attend live, you'll have the opportunity to send him your questions in advance.
— OMG Expanded —
After over 7 years of offering this transformational program, we have found that those who do the program with others and the support of a mentor, get the most out of the experience. They are better able to stay accountable to their desires, understand the depth of Amir's teachings, and feel supported in expanding their life infinitely. Choosing OMG Expanded means you get the above core program PLUS…
Live Group Sessions
The OMG Expanded Program is an individual journey within a group format. The impact of the group format is that it supports you to experience reflections, awareness and holds a space to discuss each module with your group members along with the support of your mentor.
OMG Mentors
Our OMG Mentors are hand-picked by Amir Zoghi and have been trained by him in supporting individuals on their journey of awakening and self-realisation.  Through their skill in observation and their ability to hold a space of non-judgement and presence they support you in integrating the coaching modules provided by Amir. Our OMG Mentors have the ability to pinpoint and bring awareness to the mental limiting beliefs or thoughts that don't enable us to experience freedom and take action on what is true for us. Our OMG Mentors are highly experienced, and their element of quality support is what enables you to integrate each module of the OMG Program and bring the tangible practices into your own life.
What happens in the live group sessions?
This is a group of people in synergy with one great thing in mind; the Journey of Oneness and the experiences of Truth and Infinite Possibilities. Our hand-picked OMG Mentors personally meet with an intimate group of no more than 10 people face-to-face online where they coach the group through the current module of the OMG Program. This gives the participants the opportunity to ask any questions about their module topic, and really integrate their experiences with support.
— OMG Unlimited —
The most transformational way to experience OMG with unlimited access to Amir himself. Just like his high-level private coaching group, with OMG Unlimited you have exclusive access to Amir via email, phone or in-person, whenever you need it throughout each month of the program. Because of the exclusivity of this offering, you will first have a chat with Amir to see if it's a good fit.
Ready to drop deeper?
OMG STANDARD
Monthly core video content from Amir

Daily emails with supporting content

Monthly Q&A group coaching call with Amir

Cancel anytime, no minimum commitment
OMG EXPANDED
Monthly core video content from Amir

Daily emails with supporting content

Monthly Q&A group coaching call with Amir

Bi-weekly group coaching calls with an OMG Mentor

All content downloadable for lifetime access

12-month commitment
OMG UNLIMITED
Monthly core video content from Amir

Daily emails with supporting content

Monthly Q&A group coaching call with Amir

Unlimited personal access to Amir for coaching when you need it
Frequently Asked Questions
How long is the program?
The full program is 12 modules delivered over 12 months. Each month is focused on one topic as listed above. You'll receive the core video lessons on each topic at the start of the month and daily emails on the month's topic each month. If you sign up for OMG Expanded with coaching, the program and commitment will last 12 months. If you sign up for OMG Standard without coaching, you can choose whether you want to take part in all 12 months or cancel before you complete the full program.
I'm not ready to commit to 12 months but I do understand the importance of having a mentor and group coaching in this work…
We understand. That is exactly why we have the OMG Standard package. This gives you a chance to jump in, see the depth of the content and realize how transformational this program really is. When you're ready, subject to availability, you'll be able to upgrade to OMG Expanded and join a mentoring group. Just shoot us an email and we'll discuss the possibility of joining a group.
What happens if I cancel?
Because of the group aspect of OMG Expanded, it requires a 12-month commitment to the other group members. You will develop a deep connection and appreciation for one another and it's essential you are all equally committed. For this reason we do not accept cancellations of OMG Expanded once you join a group.
OMG Standard is your chance to try the program without the group commitment. You are welcome to cancel at anytime, for any reason. Your daily emails and access to the content will continue through the end of your payment billing cycle.
How much time does this program require? Daily emails sounds like a lot!
Our intention is to give you as much support as possible without overwhelming you. Each month you will receive between 2-3 core content videos that are 60-90 minutes in length. You'll want to set aside 3-4 hours in the first week of the month to watch the videos. The subsequent daily emails can be a 30 minute supporting audio or simply a reminder, question or quote to ponder on. You are not required to read or implement each daily email but we find that the daily reminders to integrate the teachings make this the most supportive program available today.
If however, you choose to experience OMG with a group in OMG Expanded, you will have the additional 90 minute call bi-weekly each month. You will want to ensure you can be present for this call if you join the group. If you have an inflexible schedule, please send us an email at contact@amirzoghi.com before signing up so we can ensure we have a group time that suits your schedule.
What happens after I sign up?
After you make your first month's payment, you'll receive a welcome email with your personal login the the program members area online. You'll have immediate access to Amir's foundational program, the original 12-hour version of The WTF?! Experience that we recommend you watch before your first month begins.
If you chose OMG Expanded, your OMG Mentor will be in touch within 48 hours to setup an introduction call to get to know you, give you the group call schedule and invite you to your private WhatsApp chat group.
You'll start receiving the daily emails and the first month of content on the 1st of the upcoming month.
OMG STANDARD
Monthly core video content from Amir

Daily emails with supporting content

Monthly Q&A group coaching call with Amir

Cancel anytime, no minimum commitment
OMG EXPANDED
Monthly core video content from Amir

Daily emails with supporting content

Monthly Q&A group coaching call with Amir

Bi-weekly group coaching calls with an OMG Mentor

All content downloadable for lifetime access

12-month commitment
OMG UNLIMITED
Monthly core video content from Amir

Daily emails with supporting content

Monthly Q&A group coaching call with Amir

Unlimited personal access to Amir for coaching when you need it