Who is the OMG Program for?
I'd rather tell you who this program is not for because to be honest the individual this is for will already know it is for them. They will feel like it's what they had been looking for all along. So, the individual this is not for is the person who is not ready for change and not up for being personally challenged. It's not for the person who's looking for a quick fix or a magic pill. It's not for the individual who feels that information and this style of coaching that will help people should be free. It's not for the person who is still looking for the "value" in spending money or time in experiencing who they Truly are.  It's not for the person who is not willing to be truly honest with themselves.
Program Details & Structure
Program Length | 12 months
Delivery | Online
Cost | $6600 AUD ($1,100 discount when paid upfront OR $550/month payment plan)
Eligibility | An interview process is required before beginning your program to ensure that this program is right for you. During this process you also have the chance to meet your facilitator and discuss any initial questions you may have before beginning.
Daily Emails
Each daily email will consist of something different and are based around delivering bite-sized pieces of Amir's coaching. This could include; audio content, videos, guided processes, and exercises. Each day supports you to stay plugged in, to ensure you succeed at integrating all that Amir shares as this enables you to truly live it in your life.
Live Group Sessions
Your program starts with your group and ends with your group. The OMG Program is an individual journey within a group format. The impact of the group format is that it supports you to experience reflections, awareness and holds a space to discuss your module with your group members along with the support of your facilitator.
What's Included?
12 Coaching Modules | each module is released every 4 weeks
Live recorded OMG Video Sessions | with Amir Zoghi for every module​​​​
A new Guided Process Audio | with Amir Zoghi for every module
Live Group Facilitation Session |  with Amir Zoghi's trained facilitator
​​​​​​​Tangible exercises and practices | to further the integration of each module
Recorded Content Audio's | with Amir Zoghi to support the integration of each module
OMG Facilitators
Our OMG Facilitators are hand-picked by Amir Zoghi and have been trained by him in supporting individuals on their journey of awakening and self-realisation.  Through their skill in observation and their ability to hold a space of non-judgement and presence they support you in integrating the coaching modules provided by Amir Zoghi. Our OMG Facilitators have the ability to pinpoint and bring awareness to the mental limiting beliefs or thoughts that don't enable us to experience freedom and take action on what is true for us. Our OMG Facilitators are highly experienced, and their element of quality support is what enables you to integrate each module of the OMG Program and bring the tangible practices into your own life.
What happens in the live group sessions?
This is a group of people in synergy with one great thing in mind; the Journey of Oneness and the experiences of Truth and Infinite possibilities. Our hand-picked OMG Facilitators personally meet with an intimate group of no more than 20 people face-to-face where they coach the group through that current module of the OMG Program. This gives the participants the opportunity to ask any questions about their module topic, and really integrate their experiences with support. For those who are not able to join the group in person, this component of the program is also offered online via a scheduled group Live Video Session.
DOWNLOAD THE PROGRAM MODULE OUTLINE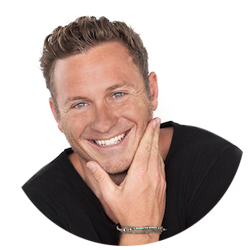 Meet Your Facilitator, Jamie Gonzalez
Jamie Gonzalez is an inspirational speaker, honest writer, and wholehearted mentor on what he describes as Limitless Living.
His way of life is one which has come through dedication in getting to truly know himself. Jamie's willingness to stay in the present and continually express and move from a place of limitless possibilities has seen him enter into the role of a supportive guide for those wanting to know themselves and live a more fulfilling and conscious way of life.
'After years of searching for myself in the world, I now know there is nothing greater in life than truly knowing oneself. Once you have yourself than this world becomes your playground to be and do all that you love.'
Jamie has spent the past almost now decade working with clients internationally one on one and in group facilitation. His mentoring is best described as a no bullshit approach with a big heart. He knows what is required to get ourselves out of the way and experience the limitless potential that is available to us all.   
Committed to his journey, Jamie through his continued own self-realisation and being able to openly and clearly express that so others can then realise for themselves who they truly are is what his most passionate about.
"While re-watching WTF was very beneficial, I wanted to know this wisdom in such detail that I would become the wisdom and I found this through coaching with Amir. I am then able to go out into the world and slot it in to how I am already living. This previous fragmented jigsaw of life is gradually taking the form of an artwork more beautiful than I could have imagined. The greatest part of this is that it isn't the world that is changing at all – it is me. And in this realisation I am finding the endless well of power and creation that I AM. For me, it's about having the will to invest in yourself to live the way you dreamt you could – free and with love."
MATT AUGUSTYN
"What I love about the coaching program is that each module feels like a calming mediation. I tend to overthink just about anything and listening to these webinars allow me  to turn down the chatter, remember my Truth and to let go of having to control everything. It has helped me to focus on what I love instead of trying to force things to work in a certain way. When I allow myself to live in the flow, everything happens with more ease and in extraordinary ways that I couldn't have planned if I tried. And i'm only on module 4 so I can't imagine what more will come by the time I reach the end!"
YARI ARENAS
"You have no idea what you'd be missing if you don't do this. It's given me everything… everything I've wanted, I've now got. I used to feel like life (especially work) demanded me to be a certain way. I worked over 100 hours per week often and didn't think it could be any other way. WTF and OMG helped me see clearly what I want, and how want I want is possible–even in the workplace as an employee of a huge bank! I've learned what's real and what's not. I feel free from obligation in how I have to be and what I think I need to do. I have more time outside of work as I work less, and I'm more effective and get the same if not more results doing the projects I actually want to do."
MNIVIN THANABALAN
"Living this in every moment is a lifestyle change. This coaching offers consistent support to stay on track. It's like fitness. Just because you see results, you don't stop, you keep going as there is no destination. It becomes a lifestyle. I can't wait for every week and month when I get my new support audio or video and I clear my schedule to watch it as I get insight after insight into my own life. And it translates to decision making. When I make decisions now for things that I would have thought weren't easy or attainable, I watch as things happen in my life to revolve around what I desire, instant manifestation, all by putting my attention on the truth. "
KERRI TSIGOLIS