WHO IS AMIR?
MOTIVATOR | INSPIRATOR | AVIATOR
Amir Zoghi is not your regular Motivational Speaker and Life Coach. He's also an Aerobatic Pilot, taking his passengers to the edge of their comfort zone by showing them some rather skillful aerobatic stunts. When not soaring over the skies of Sydney, Amir is well known to be helping others soar in their personal and professional lives as a Mind Performance Coach.
Amir is sought after for his deep, yet modern philosophical teachings on Self-Actualisation. He teaches in the area of intuition, self awareness and human potential. His modern age philosophies teach others how to embody transformation and truth and experience inner freedom. Amir is a natural intuitive, sharing his wisdom through his writings, teachings and speaking on the stages of the world. He's a master at expressing truly profound and authentic messages, delivered with absolute simplicity and clarity that anyone can relate to.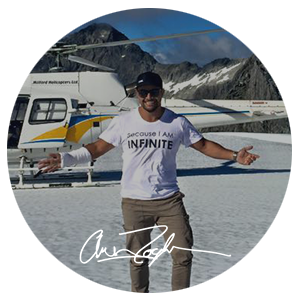 SPEAKING, INTERVIEWS & PODCAST EXAMPLES
GET IN TOUCH
If you'd like to interview Amir or invite him to speak at an event, please contact the media team at contact@amirzoghi.com or use the form to the right.