INFINITE COACHING MEMBERSHIP
Get support & community every week with Amir
and other like-minded people.
Having coached hundreds of people from around the world, there are two things that stand out about the journey people take with this work:
1 — When you do it alone, you're more likely to give up.
2 — When you do it alone, you are less likely to LIVE what you learn.
From all the coaching I've done, by far the most powerful sessions have been the ones that were part of a live group!
In fact I would go as far to say that the power is in the group of like-minded people who are sharing this journey together.
The coaching I offer is far more impactful when shared in a group of like minded people, that's why I have put together the Infinite Coaching Group.
I invite you to join me in my weekly coaching membership.
We meet once every week online as a group and I coach you through all the bends and turns that one faces on their path to their Real Self.
You will have the opportunity to ask me questions live and receive coaching and intuitive insights to your journey.
In addition, all the sessions will be recorded, in case you want to go back and revisit them at anytime.
Plus I will be offering bonus content regularly that will give you the "INSIDE Edge" to living this stuff!
It won't matter which of my programs you are currently doing or have done, the Infinite Coaching Group is dedicated to support you through all my content, even if it's only The WTF?! Experience that you've completed.
Take a step forward towards yourself, towards your Real Self and really Live your Truth, not just know it!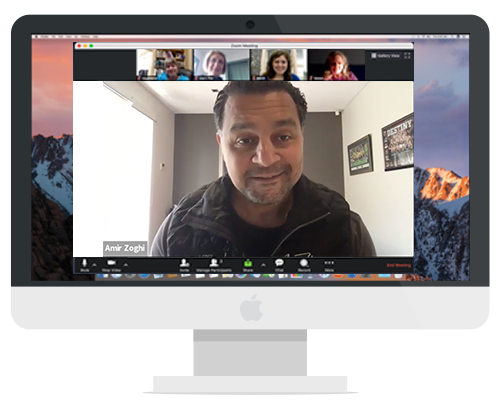 WHAT'S INCLUDED:
Weekly online group coaching via the Zoom platform, every Wednesday at 10:30am AEDT
Call recordings if you can't make it live are sent within 48 hours.
Investment: Free and currently only open for members of the OMG or OMG Intensive Programs.
JOIN AMIR'S COACHING GROUP
This group is currently only open for members of Amir's paid coaching programs.